Early 1960s
Becoming Established
It was in the sixties that the Ad-Dharmi community started growing and a needed to establish and a desire for permanent centre was expressed, and it so happened that a building in a desperate state of disrepair and virtually derelict, originally a church became available (now the temple site) was considered.
Since there were no backing funds available which were in any reserve account, the Wolverhampton Council was concerned that the community may not be able to afford the rent which was £300 per annum, then a small market trader at that time, named Mr Ram Prakash Paul of village Mansoor Pur gave personal guarantees that the rent will be paid on time, it was then that the building was acquired on lease.
It was a moment of great joy and achievement for all those who had worked tirelessly to see that their hard work was beginning to materialise and coming to fruition.
As required, the Temple had to be registered in the Wolverhampton Town Hall, to complete this formality, two well educated gentlemen of the community, Mr Harcharan Dass Soochi Pind(a very prolific speaker on the knowledge of the Adi-Granth and his grand father seth Labhu Ram Ji was in the Ad-Dharam movement 1925/26) and Mr. Amar Chand Mahay, Ghurka (who graduated in English in 1954 at "Ram Gariah" college Phagwara had a very unique and effective style in drafting letters and memorandums ) went straight to the Town Hall after finishing work and getting to the officer- in- charge at the Town Hall.
They met with great disappointment, since the name to be registered was "Shri Guru Ravidass Temple", he refused to register on the basis that they have never heard of the name "Ravidass".
Registration
The Doors Open
Really disheartened, both the gentlemen came back disappointed thinking all along for a solution to the problem.
As they say God works in mysterious ways, Mr Amar Chand Mahay, whose contribution to the cause is indispensable, had come across a translation of the Adi Granth into English, which dated back to the 1800's by an Englishman called Professor Max Arthur McCaulauffe, a set of six volumes in three editions, each containing 2 volumes. Volume 5/6 had the teachings of all Bhagats, and Guru Ravidass ji's teachings were there.
Mr Amar Chand Mahay Ji, got back to the Town Hall with the book and encountered the same officer. He pointed at the name of the translator and said he was British and then turned to the page where the teachings of Shri Guru Ravidass Ji started.
The officer humbly took the book, double checked the authenticity and acknowledged the authority of the author. It was after such painstaking effort that the name, Shri Guru Ravidass Temple, 181 Dudley Road Wolverhampton was registered.
As mentioned earlier, the building was in a bad state and needed a lot of work and it was a mammoth task, and one has to admire all the people both community members and the then committee members, who after finishing their long work shifts in factories spent hours decorating and repairing it.
If my memory does not fail me, it was in 1966/7 that the building came fully operational. The first birthday commemoration of Satguru Ravidass ji took place in the new building in 1967 but since the building could not accommodate such large gathering, the town centre civic hall in Wolverhampton was hired in 1968.
It continued that way until the temple complex expanded and the community centre opposite the temple was purchased at a cost of approximately £325,000.00. The community showed their support in abundance and contributed generously.
Bearing in mind that the numbers were increasing, and a greater organised structure was needed to be put in place, an efficient administrative team, a well defined role and a sense of direction also was well thought of, it was decided to draft a constitution so that no one ever, whether from this community or outside of it can succeed in hijacking the main fundamental core principal of the organisation.
What powers were given to the President, Vice President, the General Secretary , the Treasurer and the Chairman were clearly defined and no loopholes were left.
The task of drafting the "constitution" was given to Mr Amar Chand Mahay which was completed on 2/6/1968 who along with selected members did a great job, hence the "first chairman" of the constitution had played a very important role in preserving the real objective of the organisation in service to the community.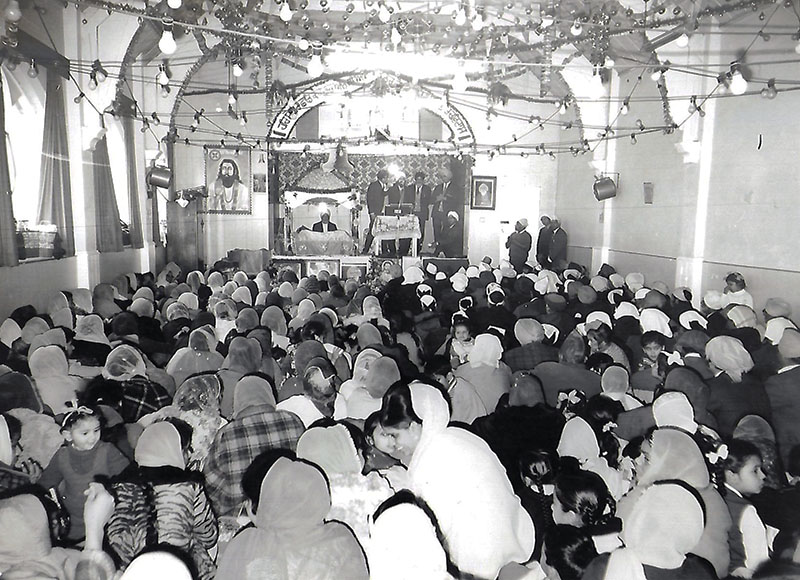 Moving forward to the 1970's The workload of the committee was now increasing as The Temples in Most other cities/towns were being established, a uniform policy was needed, so an overall single body, called Shri Guru Ravidass Sabha U.K. after many general meetings was established on 2/4/1972 and its first constitution was written by Mr. Amar Chand Mahay on 4/7/1976 which streamlined the policies giving directions to all as a single voice for a single cause.
Mr Amar chand Mahay was working tirelessly all hours with his colleagues devoting time and efforts even at the weekends for the committee.
The progressive development of the community at all levels was now the key element in mind, from a common fund raised mostly from the Shri Guru Ravidass Dharmik Sabha, Wolverhampton some 27 acre land which was inaugurated on 5/7/1970 on Hoshiarpur Road Phagwara, Punjab, India was purchased to build a college for the community so that the poor section of the community can benefit from better education and also be aware of the happenings in the community which is continuing till today but needs further developments.
That is the brief history of the Wolverhampton Sabha and how it evolved, but there are many individuals who had contributed and we have decided to acknowledge them all from memory.
However, the history of the Wolverhampton Sabha would be incomplete without mentioning other key figuresThat is the brief history of the Wolverhampton Sabha and how it evolved, but there are many individuals who had contributed and we have decided to acknowledge them all from memory. However, the history of the Wolverhampton Sabha would be incomplete without mentioning other key figures:
Sh. Polo Ram Hira Ji Sandhwan (who wrote and recited very inspiring poems), Mr Ram Parkash Hira Sandhwa, Mr. Swarna Ram Domeli, Sh. Puran Chand Jakhu Nanak Pindi, Mr. Karam Chand Kendowal, Mr Kartar Chand Mangtan, Mr Ram Lal of village Bathan , Mr Ajit Kumar Kanwal, Mr Charan Dass Bhardwajian, Manohar Lal, son of Sh. Sham Chand Pal Kartarpur, Pritam Dass Mahay and his wife Gurmej Kaur Sagarpur (their devotion to the temple will never be forgotten), Mr Bakshi Ram, Mohan Lal Chopra, Gurmail Ram Chander village Paddi Jagir (very committed and enthusiastic sewadar), Mr. Sarwan Dass village Lalian Khurd, Piaria Ram village Paddi, Chaman Lal Bungay (son–in–law of Sh. Sham Chand, (and another very devoted and passionate sewadar ).
Mr Chaman Lal Bungay then migrated to Canada after few years, and tragically he met with a car accident and passed away, and had left a will for a large sum to be donated to Shri Guru Ravidass Temple. It was honoured by his family and a great percentage of the contribution made to purchase the land in Phagwara for the college building came from him. Mr Kuldeep Rai Kultham who later had a press and published a newspaper called the Punjabi Post, this he did from his offices based on Soho Road, Handsworth, Birmingham, Mr. Dayal Ram of Banerjee studio situated at Worcester Street, Wolverhampton. Mr. Ram Lal Mahey, Bootan Mandi a very voracious person, Mr Pakhar Ram Kainth, Mr Boojha Ram, Mr Lal Chand, Mr Chainchal Bhuttay of village Atta, and many more.
The list can be endless and it is not the scope of this document to do that, perhaps someone might be able to write a book one day and include a full history of all the achievements of the community who contributed to whatever extent within their capacity.